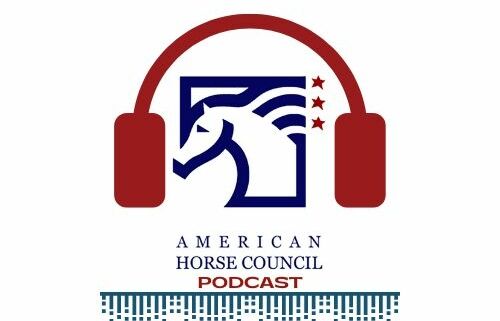 American Horse Council's Podcast Hits Milestones, Looks to Expand
Contact: Julie Broadway
American Horse Council
Phone: 202-296-4031
Email: jbroadway@horsecouncil.org
For Immediate Release
August 25, 2023
American Horse Council's Podcast Hits Milestones, Looks to Expand
There are more than 100 million active podcast listeners in the United States, according to Intuit. There are 38 million households in the United States that contain horse enthusiasts, according to the 2017 American Horse Council Equine Economic Impact Survey. The overlap of horse enthusiasts and podcast listeners hasn't been measured, but there's a good bet it's a significant overlap.
To have a horse industry and horse welfare related podcast is a unique niche that has become the American Horse Council's monthly podcast. The AHC podcast on Horses in the Morning debuted on May 2, with a new episode online the first Tuesday of every month. The podcast can be found on the Horses in the Morning website, Google and Spotify podcasts and your favorite podcast platform. Horses in the Morning is the flagship daily podcast that anchors the Horse Radio Network, an entity of the Equine Network.
"Having the AHC join us on Horses in the Morning has brought new conversations for horse owners that needed to be started," says Glenn Hebert, Director of Podcasting and America's Horse Husband on the Horse Radio Network. "This podcast is reaching new audiences and introducing them to another side of the industry, no matter the discipline they follow."
Each episode is averaging thousands of downloads, so far, which shows that niche podcasts such as the AHC podcast have found a more focused market. The AHC is looking for podcast guests and sponsors for the episodes. Prospective guests should submit a summary of the proposed topic. Topics should not be focused on selling or promoting products. Instead, the topics must be original, relevant, nonpolitical and applicable to the equine industry. Sponsorships are available on a per-episode basis and include two to three commercials of no more than 30 seconds each spread throughout the episode.
The first four episodes are available online for listening at leisure.
Each show includes updates on what's going on with legislation in individual states, as well as on the national front in Washington, D.C., as a way to inform and educate listeners.
"We have had a lot of fun doing the podcast so far," says Julie Broadway, president of the AHC. "I truly believe we try to address important topics that are not only interesting but educational for horse owners and enthusiasts. I feel like we have a different niche for our podcast that has been accepted by everyone."
"The American Horse Council episodes are all awesome, but the August (episode) was next level," says listener Madison Tillman.
For more information on sponsoring the American Horse Council podcast, or to learn more about the AHC, email president Julie Broadway at jbroadway@horsecouncil.org.
-30-
About the American Horse Council
As the national association representing all segments of the horse industry in Washington, D.C., the American Horse Council works daily to represent equine interests and opportunities.
https://horsecouncil.org/wp-content/uploads/2023/08/AHCpodcast.jpg
500
500
Ashley Harkins
https://horsecouncil.org/wp-content/uploads/2020/04/logo.png
Ashley Harkins
2023-08-26 00:27:58
2023-08-29 06:54:16
American Horse Council's Podcast Hits Milestones, Looks to Expand